We offer beautiful, seasonal, scented wild garden style gift bouquets April-October.
Our gift bouquets are wrapped using tissue paper, kraft paper, natural raffia and paper tape. If your bouquet needs to be able to lie flat (e.g. on a casket) or travel long-distance out of water we can provide an eco-wrap to keep your flowers fresh.
Contact us to order. Our standard size gift bouquets are £32 (other sizes available on request) and can be collected from Pencae (near Church Bay) by arrangement. Enquire about local delivery. Min 48hrs notice please for orders to allow for cutting and conditioning your flowers.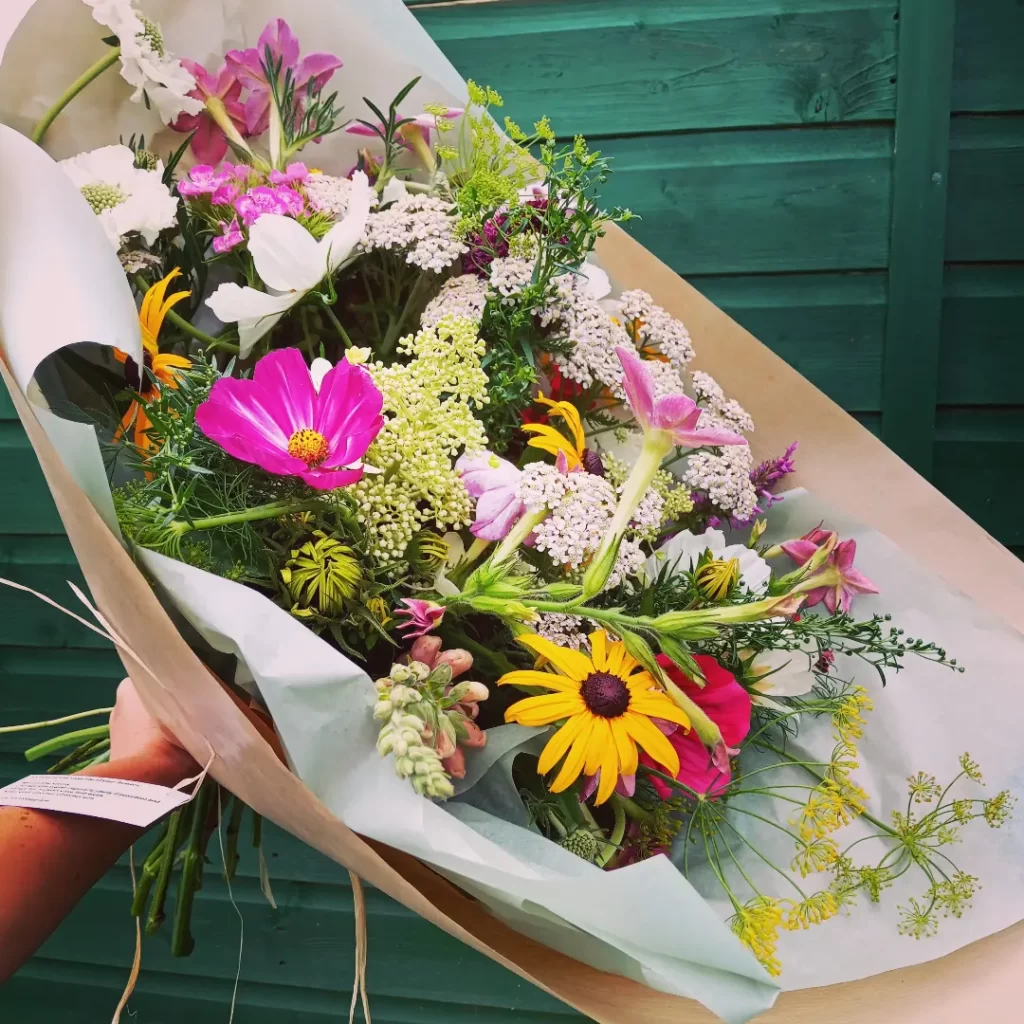 We offer a small range of simple, scented, seasonal designs for memorial flowers April-October and Christmas memorial wreaths from mid Nov-mid Dec.
We grow our own flowers and foliage alongside our small market garden business Pencae Veg. As we work part-time on Blodau Blooms we offer a simple range of options. 
Memorial wreaths on a mossed willow base. 30cm, 40cm and a birch heart with flowers on one side.
Bouquets in an eco-wrap enabling them to be laid flat on the casket
A memorial sheaf to lay flat on the casket. If requested this design can be separated into 3 bunches to be displayed in vases at the wake, or given to family members or friends to take home after the service.
Casket sprays which can be deconstructed into 6-8 separate bunches to be displayed at the wake or given to family and friends.
Contact us to discuss your requirements.
We can incorporate flowers from your loved ones garden by arrangement.
We offer buckets of seasonal flowers and foliage for you to create your own designs for your small wedding or event April-October.
We also offer unique, seasonal, scented, wild garden style hand tied Bridal bouquets, buttonholes, jam jar posies and large vase arrangements.
Choice of 'best of the garden' for the week of your wedding or event, white flowers with green foliage, white with an accent colour or bright and bold colours!
A small range of eco glass vases are available to hire. We can advise on simple foam-free floristry techniques if you are creating your own arrangements. 
Contact us to discuss your event and book your slot as we have availability for only two weddings per month.
Have any questions? We are always open to talk about your business, new projects, creative opportunities and how we can help you.